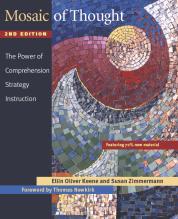 Visualizing is a strategy in which readers generate mental images that represent text. These images serve to enhance comprehension of the text. As Ellin Oliver Keene and Susan Zimmerman explain in their book Mosaic of Thought: Teaching Comprehension in a Reader's Workshop (Heinemann, 1997):
Proficient readers spontaneously and purposefully create mental images while and after they read. The images emerge from all five senses, as well as the emotions, and are anchored in a reader's prior knowledge. . . . Proficient readers use images to draw conclusions, to create distinct and unique interpretations of the text, to recall details significant to the text, and to recall a text after it has been read (p. 141).
One specific strategy for teaching visualization is called sketch-to-stretch. This strategy involves asking students to sketch in response to a text that they read or listen to. As the name suggests, the strategy can deepen, or "stretch," students' understanding of a text. While many lessons and online resources use the sketch-to-stretch strategy with fiction, it can also be used with informational or nonfiction text.
How does visualizing apply to science class? Many science concepts, such as the water cycle, are better understood if students are able to create mental images of them.
For More Information
Visualizing
This page from the Ohio Resource Center's AdLit Reading Strategies collection provides an overview of visualizing as well as activities that support students in using this strategy.
Into the Book: Visualizing
A multimedia site that includes videos, lesson plans, and student activities for visualizing and seven other reading comprehension strategies.
Sketch-to-Stretch
An overview of the sketch-to-stretch strategy and examples of how it might be applied to science-themed text.
Sketch-to-Stretch Comprehension Strategy
A brief description of how sketch-to-stretch might be applied in science class.
Reading Teacher Resources
This page discusses several reading comprehension strategies. Scroll down the page to Creating Sensory Images (Visualizing) to find a definition, teacher prompts, and a variety of activities and graphic organizers for use with upper-elementary students.
Visualizing to Understand Content Area Text
An overview of the strategy of visualizing and links to resources for use with fiction and nonfiction text are provided in this article.
---
This article was written by Jessica Fries-Gaither. Jessica is an education resource specialist at The Ohio State University and project director of Beyond Penguins and Polar Bears. She has taught in elementary and middle school settings. Email Jessica at beyondweather@msteacher.org.
Copyright March 2011 – The Ohio State University. This material is based upon work supported by the National Science Foundation under Grant No. 1034922. Any opinions, findings, and conclusions or recommendations expressed in this material are those of the author(s) and do not necessarily reflect the views of the National Science Foundation. This work is licensed under an Attribution-ShareAlike 3.0 Unported Creative Commons license.