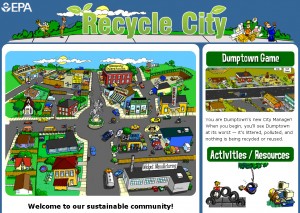 Recycle City is an EPA-produced, student-friendly, interactive web site designed to teach students about actions that create a sustainable community. Students will learn about recycling, reducing waste, and using less energy.
The Recycle City web site includes several parts: Recycle City, the Dumptown Game, and Activities and Resources.
A map of Recycle City encourages students to explore its four sections. Within each section of the city, students can click on various businesses and homes to learn about how the people who live and work there improve their local environment.
In the Dumptown Game, students assume the role of the city manager. They are first shown what the city looks like without any sustainable programs and practices. They visit City Hall to learn about ten programs (composting, recycling, and so on). Students select which program they would like to implement and then view how the program has improved their town.
The Activities section of the site includes ideas for teachers and students, a downloadable activity book, online resources, and suggestions for getting involved in their own communities.
This free resource helps students make connections between what they have learned in the lessons featured in the article Science Lessons About Our Environmental Impact and their own lives.
---
This article was written by Jessica Fries-Gaither. Jessica is an education resource specialist at The Ohio State University and project director of  Beyond Weather and the Water Cycle and Beyond Penguins and Polar Bears. She has taught in elementary and middle school settings. Email Jessica at beyondweather@msteacher.org.
Copyright December 2011 – The Ohio State University. This material is based upon work supported by the National Science Foundation under Grant No. 1034922. Any opinions, findings, and conclusions or recommendations expressed in this material are those of the author(s) and do not necessarily reflect the views of the National Science Foundation. This work is licensed under an Attribution-ShareAlike 3.0 Unported Creative Commons license.