Making inferences is an essential, yet challenging reading comprehension strategy. Explicit instruction and think-alouds provide students with the support they need as they develop proficiency with this skill. The lessons highlighted below provide different approaches to teaching inferring. Most of the approaches can be adapted for use with other texts.
Inferring Lesson Plans (Grades K-5)
This web page includes six activities that help students learn to make inferences. Activities can be used with any text and in contexts outside reading class.
Let's Talk About Stories: Shared Discussion with Amazing Grace (Grades K-2)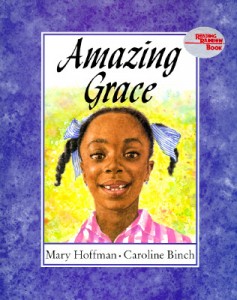 This lesson gives students opportunities to interact with a thought-provoking story, as they also develop comprehension and critical-thinking skills (including inferring). The same instructional strategy can be applied to other picture books. This lesson meets the following NCTE/IRA Standards: 3, 4, 7, 11, 12.
Exploring the Subtext Strategy: Thinking Beyond the Text (Grades 2-4)
In this lesson, students use the subtext strategy to take on the perspectives of various characters in Alexander and the Terrible, Horrible, No Good, Very Bad Day and think beyond the written text. This strategy helps students develop inferring skills. This lesson meets the following NCTE/IRA Standards: 3, 4, 11, 12.
Inferring How and Why Characters Change (Grades 3-5)
This lesson uses a think-aloud procedure to model how to infer character traits and recognize a character's growth across a text. Students also consider the underlying reasons why the character changed, supporting their ideas and inferences with evidence from the text. This lesson meets the following NCTE/IRA Standards: 1, 3, 11, 12.
What's Under the Slide? Making Inferences Using Microscopes (Grades 3-5)

This lesson uses science to engage students in the process of making inferences. First, students work through a series of activities about making inferences. Then they read a booklet of descriptions of a series of mystery objects that are placed under a microscope. Finally, they look through each microscope and use the formula schema + text clues = inference to make their own inferences about the identity of each mystery object. This lesson meets the following NCTE/IRA Standards: 3, 7.
---
This article was written by Jessica Fries-Gaither. Jessica is an education resource specialist at The Ohio State University and project director of Beyond Penguins and Polar Bears. She has taught in elementary and middle school settings. Email Jessica at beyondweather@msteacher.org.
Copyright May 2011 – The Ohio State University. This material is based upon work supported by the National Science Foundation under Grant No. 1034922. Any opinions, findings, and conclusions or recommendations expressed in this material are those of the author(s) and do not necessarily reflect the views of the National Science Foundation. This work is licensed under an Attribution-ShareAlike 3.0 Unported Creative Commons license.