Have you ever wished you could find one source of photos and videos of the world's wildlife for use in your classroom? An award-winning site called ARKive might be just what you need.
ARKive is a centralized digital library of photographs and videos of the world's varied species. Special priority is given to documenting those species at most risk of extinction.
The welcome message on the home page explains:
Wildlife films and photos are vital weapons in the battle to save the world's endangered species from the brink of extinction. So with the help of the world's best filmmakers, photographers, conservationists, and scientists, ARKive is creating the ultimate multimedia guide to the world's endangered animals, plants, and fungi.
ARKive images and video can supplement the lessons included in our article Lessons About Organisms, Their Adaptations, and Their Environments.You can explore the ARKive site using Google Earth, or create your own scrapbooks of images and videos. The site also includes basic facts about each organism pictured, a number of teaching resources, and two games that help elementary students learn about habitats and adaptations.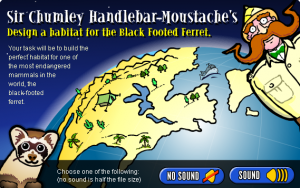 Design a Habitat (Grades 3-5)
In this game, students design the perfect habitat for a family of black-footed ferrets, an endangered species. The game provides background information for students in terms of the ferret's needs and gives feedback to students on the suitability of their designed habitat.
Animal Survival (Grades 3-5)
Students answer six questions about the sand lizard's daily habits and how the cold-blooded reptile is adapted to life in the desert. While the interactive provides the correct answers, it would be helpful for students to have learned about similar desert reptiles before completing this.
---
This article was written by Jessica Fries-Gaither. Jessica is an education resource specialist at The Ohio State University and project director of Beyond Penguins and Polar Bears. She has taught in elementary and middle school settings. Email Jessica at beyondweather@msteacher.org.
Copyright May 2011 – The Ohio State University. This material is based upon work supported by the National Science Foundation under Grant No. 1034922. Any opinions, findings, and conclusions or recommendations expressed in this material are those of the author(s) and do not necessarily reflect the views of the National Science Foundation. This work is licensed under an Attribution-ShareAlike 3.0 Unported Creative Commons license.