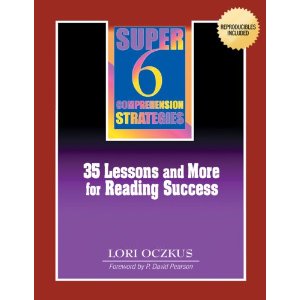 Evaluating is one of the "super six" reading comprehension strategies as described in Super Six Comprehension Strategies: 35 Lessons and More for Reading Success by Lori D. Oczkus (Christopher-Gordon, 2004). While it is succinctly defined as "making judgments," it is a complex strategy, including
determining importance of information in written text;
determining accuracy and credibility;
determining appropriateness and/or usefulness;
determining personal enjoyment of a text; and
determining one's own progress as a reader.
Evaluation is a highly metacognitive strategy – it requires thinking about one's own thinking and learning! Students are not automatically metacognitive, nor do they automatically apply comprehension strategies while reading. As with the other strategies, explicit instruction helps students understand the strategy and apply it as they read. Following a gradual release of responsibility model ensures that students receive the support they need as they master the skill.
Being able to evaluate text is an important component of reading. But it doesn't stop there. The strategy has applications across the content areas, from art to mathematics. But what about science?
Evaluating in Science
Aside from text, the cognitive skill of evaluation is most often used when analyzing and interpreting data. Scientists consider whether data seem accurate. Is there something in the experimental design or data collection protocol that may have inadvertently affected the data? Are there additional variables that need to be controlled? This is especially true when data are surprising or out of line with other findings.
Scientists also evaluate the quality of each other's work. They read papers and provide feedback to other scientists. Most scientific journals are peer-reviewed, meaning that articles must be approved by fellow scientists before being accepted for publication.
Help students make the connection between evaluating as a reading comprehension strategy and evaluating in science by providing opportunities for them to collect and analyze data. If an investigation doesn't go as planned or the results are not as expected, don't throw it out. Use it as a teachable moment and ask students to figure out why they obtained this result. Do they need to modify their experimental design? What other factors might be affecting the data?
Also help students learn how to critique each others' work and conclusions. The first step in doing so is to simply provide time for students to share their work with their peers. It is also important to model how to ask clarifying questions and provide substantive feedback. You might provide question or sentence stems for students such as
I wonder what might have happened if you…
I especially like that you…
I'm confused about…Can you explain this again?
I interpreted these results differently. I thought that…
It is especially important to create a classroom environment where students feel comfortable sharing ideas and asking questions. Help students understand that they can challenge each others' ideas in an academic, nonthreatening way.
---
Resources
Oczkus, L. D. 2004.  Super Six Comprehension Strategies: 35 Lessons and More for Reading Success. Norwood, MA: Christopher-Gordon.
Evaluating
This page from Into the Book provides background information about the strategy, videos, lessons, books, research, and links for further reading. Into the Book also has a student center for exploring evaluating and other reading strategies.
Determining Importance
This article from the Beyond Penguins and Polar Bears magazine provides background information and resources as well as templates for use with the nonfiction text Reader of the Rocks.
ODE Assessment Grade 5: Scientific Ways of Knowing, Evaluating a Conclusion
This question asks students to evaluate a conclusion based on data collected by two students. This is a multiple-choice test item used in a past Ohio Achievement Test assessment.
Moving Beyond the Page in Content Area Literacy: Comprehension Instruction for Multimodal Texts in Science
This article from The Reading Teacher discusses how multiple representations are central to the discipline of science, and that students require explicit instruction on how to critically read, evaluate, and design a variety of scientific representations of their own.
---
This article was written by Jessica Fries-Gaither. Jessica is an education resource specialist at The Ohio State University and project director of Beyond Weather and the Water Cycle and  Beyond Penguins and Polar Bears. She has taught in elementary and middle school settings. Email Jessica at beyondweather@msteacher.org.
Copyright September 2011 – The Ohio State University. This material is based upon work supported by the National Science Foundation under Grant No. 1034922. Any opinions, findings, and conclusions or recommendations expressed in this material are those of the author(s) and do not necessarily reflect the views of the National Science Foundation. This work is licensed under an Attribution-ShareAlike 3.0 Unported Creative Commons license.