In Beyond Weather and the Water Cycle, we're exploring Climate Literacy: The Essential Principles of Climate Sciences, which summarizes the most important principles and concepts of climate science. In addition to the seven essential principles, the document also includes the  Guiding Principle for Informed Climate Decisions. It states:
Humans can take actions to reduce climate change and its impacts.
How can elementary teachers incorporate this guiding principle into their classroom? An emerging best practice from climate research is that teachers are better able to avoid overwhelming students, transcend boredom, and engage students by weaving science content with solutions.  In this column, we help you and your students make the connection between knowledge and action.
In this issue, we focus on Essential Principle 5: Our understanding of the climate systems is improved through observations, theoretical studies, and modeling. Unlike columns in past issues, in this column there isn't an obvious connection to an action that students can take to reduce climate change. So instead, we've chosen to highlight three simple actions that can have great impact: reducing, reusing, and recycling.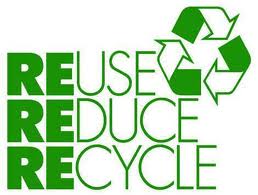 The 3Rs have been around for the past few decades, but the connection to the climate change issue is not as clear. How will recycling a newspaper or a soda can reduce climate change?
The answer is that manufacturing products, transporting them for sale, and managing the resulting waste all require energy, resulting in greenhouse gas emissions. Additionally, logging forests for paper and other products made from wood removes an important means of carbon sequestration. Reducing the amounts of products we use by purchasing less, using an item as many times as possible, and recycling items when they are no longer usable will decrease the number of products manufactured, resources consumed, and greenhouse gases emitted.
In the past, of the 3Rs  recycling has received the most emphasis. Many of us recycle at home, at school or the office, and even in airports and at sporting events. While recycling is important and should be encouraged, reducing our use of products and reusing what we do have are even more important. Be creative! There are many ways to reuse items that we would normally consider to be trash, and to repurpose items commonly found around your home.
Many of these tips can be applied to the classroom. Empty jars and containers can hold pencils. Create a paper bin so that students can reuse backs of papers for scratch paper, drawing, or coloring. (Once both sides have been used, the paper can be recycled). Old socks make great erasers for white boards. Creating a classroom environment where the 3Rs are put into practice provides a strong model for students' own behavior.
Another practice, termed "upcycling," refers to the process of taking products that would normally be thrown out and turning them into something of greater value. The extent of upcycling seems to be limited only by one's creativity. Handbags are made out of juice packs or soda cans. Scrabble tiles are turned into jewelry. Old sweaters are made into coin purses. The list goes on and on! You can introduce your students to upcycling by using a variety of "trash" objects (styrofoam meat trays, egg cartons, toilet paper tubes, magazines) to create art projects.
When you are engaged in recycling or upcycling activities with your students, take the time to explicitly talk about why these kinds of activities are important. You don't need to discuss climate change in detail to do so. Instead, you can keep the conversation focused on saving resources – a more age-appropriate topic for elementary students. Encourage students to identify ways that the 3Rs can be applied in their classrooms, schools, homes, and communities, and help them act on their ideas. You'll not only teach science content but also empower students to make a difference.
---
Resources
A Student's Guide to Global Climate Change
This web site for students in grade 3 and up is divided into four sections: Learn the Basics, See the Impacts, Think Like a Scientist, and Be Part of the Solution. One of the suggested solutions is to reduce waste, which explores how the 3Rs are connected to reducing greenhouse gas emissions.
Trash and Climate Change Activity Book
This downloadable PDF includes passages, crossword puzzles, math activities and more – all designed to help students think about reducing climate change by reducing, reusing, and recycling. Best for students in grade 3 and up. From the Kids' Activities page of the EPA Climate Change web site.
Up-Cycle Your Arts and Crafts for Earth Day
This site provides ideas for taking something disposable and transforming it into something useful and lovely. Look around your home and you're sure to find plenty of objects you can use.
---
This article was written by Jessica Fries-Gaither. Jessica is an education resource specialist at The Ohio State University and project director of Beyond Weather and the Water Cycle and Beyond Penguins and Polar Bears. She has taught in elementary and middle school settings. Email Jessica at beyondweather@msteacher.org.
Copyright September 2011 – The Ohio State University. This material is based upon work supported by the National Science Foundation under Grant No. 1034922. Any opinions, findings, and conclusions or recommendations expressed in this material are those of the author(s) and do not necessarily reflect the views of the National Science Foundation. This work is licensed under an Attribution-ShareAlike 3.0 Unported Creative Commons license.