I found myself thinking a lot about weather prediction this month while the country watched Hurricane Irene bear down on the East Coast. When you think about it, our progress in measuring weather conditions has come a long way in a short time, especially because of satellite imagery. But we still have a long way to go. Sometimes it seems like the old adage "red at night, sailors' delight" is more accurate than the weather forecasts!
This month's bookshelf features books about the tools we use to observe and predict weather. Two of my favorite titles here are based on the lives of men who sought ways to classify and make sense of their long-term weather observations in the 1800s  —  Luke Howard and Francis Beaufort. Today, scientists are still looking for patterns in our weather in order to make longer-term predictions.
---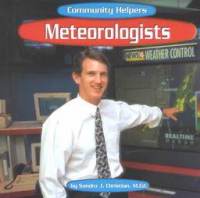 Meteorologists. Sandra Christian. 2002. Nonfiction early reader. Grades K-2.
In this book from the Community Helpers series, students can learn what meteorologists do, where they work, and how they prepare for the career. Great resource for career studies.
---
What Will the Weather Be? Lynda DeWitt. 1991. Nonfiction. Grades K-3.
This title from the Let's-Read-and-Find-Out Science Book series explains why weather changes and what scientists use to predict future weather. Illustrations and models simplify the processes in a way that will be meaningful to students. The author devotes several pages to air pressure and the meaning of high and low pressure systems.
---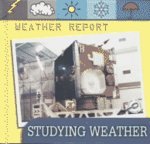 Weather Report Series. Ted O'Hare. 2003. Nonfiction early readers. Grades K-3.
Studying the Weather (2003) gives very basic definitions of weather, climate, the work of meteorologists, and weather- measuring instruments. Weather Signs (2003) takes a look at some of the ways people tried to predict weather before we had tools—from cows lying down to cloud formations. Some folk predictions were more accurate than others.
---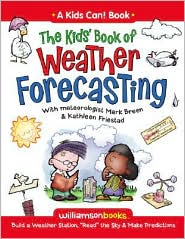 The Kids' Book of Weather Forecasting. Mark Breen and Kathleen Friestad. 2000/2008.  Activity book. Grades K-5.
Get suggestions for building your own classroom weather station and explore this resource for a wealth of extension ideas, ranging from songs, poems, experiments, demonstrations, fun facts, stories, and more! There is something for all age levels and interests.
---
What's the Weather? Melissa Stewart. 2005. Nonfiction. Grades 1-4.
Here are many suggestions for students to investigate the weather outside their classrooms by recording weather conditions and observing differences in clouds, raindrops, snowflake, formations, and more.
---
Clouds. Anne Rockwell. 2008. Picture book. Grades 1-5.
Simple, bright and cheerful illustrations explore the different types of clouds and how they are classified. This picture book would work well when paired with The Man Who Named the Clouds (below).
---
The Man Who Named the Clouds. Julie Hannah and Joan Holub. Nonfiction. Grades 1-5.
This is a biography of Luke Howard (1772-1864), who spent years observing clouds and eventually creating the cloud classification system we use today. A modern-day student's weather journal is interspersed throughout the story to add a current twist on weather observation. This book could be a read-aloud (minus the student's  journal) to introduce the topic of cloud formations, to use in a biography unit, or to introduce observation as part of the scientific method.
---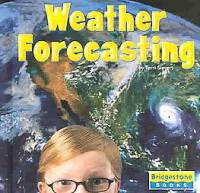 Bridgestone Weather Update Series. Terri Sievert. 2005. Nonfiction books. Grades 2-5.
Weather Forecasting (2005) explains what meteorologists do and the tools they use. You could use this book in conjunction with weather maps from a newspaper. Precipitation (2005) defines rain, snow, sleet, and hail. Good explanations with photographs.
---
Forecasting! Kris Hirschmann. 2008. Nonfiction.  Grades 3-5.
This book compares different measuring techniques and tools used by meteorologists to make both local and large-scale predictions. Global-scale predictions have only been possible since instant communication became available, from the telegraph, telephones, radar, and satellites. All this data is gathered and analyzed by powerful computers.
---
Watching Weather. Robin Birch. 2009.  Nonfiction. Grades 4-5.
This is your go-to book to learn about the instruments meteorologists and climatologists use to measure weather conditions. Thermometers, rain gauges, barometers, hygrometers, and anemometers, combined with records of actual weather conditions and satellite maps, develop a picture of weather patterns over time and can help researchers make more accurate projections.
---
Close to the Wind. Peter Malone. 2007. Picture book. Grades 4-6.
Written in ship-log format, this book gives samples of Captain Francis Beaufort's observations of wind conditions from which he developed a classification scale–the Beaufort Scale, adopted by the Royal Navy in 1838.
---
This article was written by Kate Hastings, a youth librarian at the Upper Arlington Public Library near Columbus, Ohio. Email the author at beyondweather@msteacher.org.
Copyright September 2011 – The Ohio State University. This material is based upon work supported by the National  Science Foundation under Grant No. 1034922. Any opinions, findings, and conclusions or recommendations expressed in this material are those of the author(s) and do not necessarily reflect the views of the National Science Foundation. This work is licensed under an Attribution-ShareAlike 3.0 Unported Creative Commons license.